So some of you know me and some of you might not know me all that much anymore, but I like to read. And I'm not discriminatory about my material either. I have been spending some time, effort, and money in buying comics. In fact at my local comic book store I am 'annoying girl who asks for Chew
#11
and
#12
.' I have a cubby there! I'm established :D
So this morning over cereal before work I finished DV8 Gods and Monsters
#4
. I must say, I am quite smitten with this little story arc. I can't quite say the series though. Let me explain.
The 90's were very cruel to the comic book industry. Rob Liefeld probably didn't help that cause. After reading the first 2 issues to DV8 Gods and Monsters I wasn't all that surprised that this was already a series. I was surprised to learn that it was related to Gen13. When I went on my vacation to Ann Arbor, I managed to pick up issue
#4
as well as DV8 issue
#0
. Most
#0
's are origin stories and are all very insteresting. And since I was falling in love with these characters and I was already engaged to origin stories in general, I figured the $2.99 was worth it.
#0
suffers from being a comic in the 90's. Everyone's proportions are right, but they're all ridiculous. Big boobs, big muscles, skimpy outfits all around. And don't get me started on the colors. I didn't even know there was such a thing as neon teal. The story is fine as well. Its just that the 90's weren't the time for high story telling or even good art. It was the time for X-Men to pull marketing stunts, Batman to jump sharks, and Image comics to go through puberty.
But Gods and Monsters is such a good example of what the 2000's did to the comic industry. It basically said 'come with me and take my hand. I will walk you through this tough time and teach that it's okay to have standards. Its okay to be a well conceived story with amazing art work. You can push boundaries and 4th walls. Its okay.'
So what is it about Gods and Monsters that I like? Well, the foundation is solid. The story is good. Really, the premise of DV8 is 'what if a bunch of sociopaths had super powers?' And the premise (so far to me anyways) of Gods and Monster is 'what if we put them in an impressionable civilization?' Hilarity and profit ensues. Well not so much hilarity as in flaming fits of rage and awesome! So the story = solid.
But here's where my hard on for comics really comes into play. Art work. Is it the pencils by Rebekah Isaacs, who has a soft hand and a real talent for conveying emotion? Or her amazing ability to tell a story, with or without words, through composition alone? How about Carrie Strachan, the colorist? While Issacs has beautiful artwork, Strachan brings it to fucking life. Her colors are subtle, which makes the strangeness and intensity of the story all the more bizarre and just plain uncomfortable. In a good way.
And now, if I'm being honest, the thing that drew me in and keeps me coming back is Fiona Staples. Who is she? Well she's the cover artist of course! Yeah I know its kind of lame to like a comic for the cover, but the comic is good. It was just one of those wonderful moments where I saw the awesome cover, read it, and said 'oh thank god that this is up to par with the cover work.' Because I've seen and read comics that had amazing covers and just couldn't match up to the expectations that artwork builds. So kudos to Ms Staples.
As a side note: I think its some kind of awesome that all the artists working on this happen to be women. I don't like it because they are women, mind you. That just happened to be a happy accident.
Lastly, I am also reading the first Temprence Brennan book: Deja Dead. The titles only get worse from here on out.
Current Mood: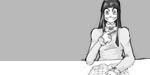 productive